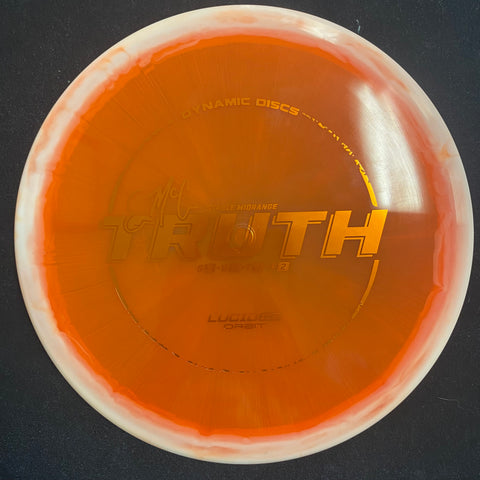 Dynamic Discs
EMac Truth (Lucid-Ice Orbit)
5 | 5 | 0 | 2
Walt Whitman said, "Whatever satisfies the soul is truth." The EMAC Truth is here to bring satisfaction to your golf game. The Truth had lost its way and wasn't as stable as we wanted it to be. The EMAC Truth sets the record straight. The beautifully neutral and versatile flight of this disc will remind you of the core of disc golf; to throw a disc where you want it to go. Let the EMAC Truth take you back to this satisfying feeling. May the Truth be with you. Signature disc for 2010 World Champion, Eric McCabe
Speed: 5 Glide: 5 Turn: 0 Fade: 2
Max Weight: 180g
About Lucid-Ice:
Lucid-Ice is a premium blend of plastics that provides a stiffness between Lucid and Lucid-X. It has great durability, and more overstable flights compared to regular Lucid.


About Lucid-Ice Orbit:
Our exclusive Orbit Effect takes the visual appeal to new heights. Using a spectacular two-color process, each Lucid Ice disc showcases a mesmerizing array of colors, creating a captivating visual that every disc golfer will appreciate. No two orbits are the same, as every disc boasts distinct variations within its design, making each throw truly one-of-a-kind.