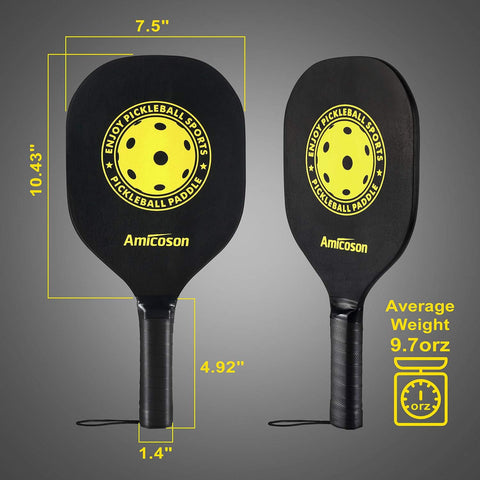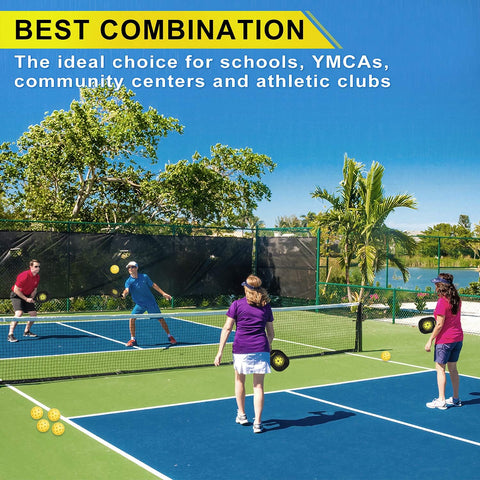 Amicoson
Amicoson Pickleball Paddle (x2)
【EXCELLENT FOR BEGINNERS & FAMILIES】Reliable and stylish, this paddle is the perfect entry point for any up and coming pickleball player. Wooden paddles are commonly used in many schools and local clubs as excellent value options to bring new players into the game. Committed to bringing the game of Pickleball to a larger.

【HIGH QUALITY PADDLES】The paddles feature durable 7-ply wood construction made from maple for plenty of power and durability. The handle with a comfortable cushion grip with a safety wrist strap, has superior grip and padding for competitive play while still allowing the player superior comfort.

【Comfortable Grip】The pickleball paddle could be nicely handled. Each pickleball paddle features a specially designed grip that minimize slipping while maximizing the balance. Perforated, sweat absorbent cushioned grip of the paddle help you enjoy longtime play without fatigue.

【PERFECT SIZE & HIGH PERFORMANCE】Dimensions: 15.35"X7.5", Grip Circumference: approx 4-1/4", Weight:269-290g (9.5-10oz). Lightweight compared to other clunky wood pickleball paddles, providing you with ball precise control and swing strength. Large Spot which means that our wooden pickleball set has more surface for catching the balls.