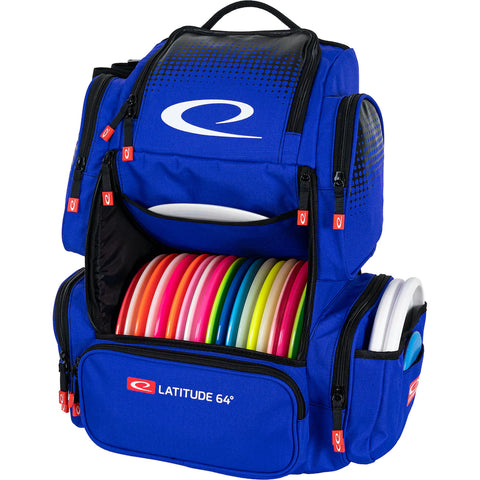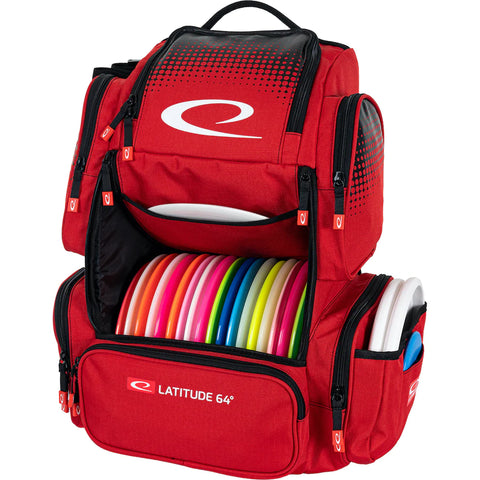 Lat 64
Latitude 64 DG Luxury E4 Backpack Disc Golf Bag
Latitude 64 DG Luxury E4 Backpack
We take disc golf gear seriously. And if you take disc golf seriously, this is the bag for you. The DG Luxury Backpack is made to carry approximately 20 discs, but it can carry 30 if all compartments are used for discs. We have placed the putter pocket and water bottle pocket holder on each side for easy access. Thanks to the unique front pocket the bag does not tip forward as easy as other backpacks. The clever umbrella holder enables you to carry the bag with the umbrella opened. It has a lot of extra pockets and compartments to store your gear. Towels, water bottle, scorecard, pens, keys, phone, wallet, rain gear, umbrella, snacks, mini disc and extra clothes fits without a problem. To sum it up: We've got your back!

Features:
Made to carry approximately 20 discs. Can carry over 30 discs if all compartments are used for discs.
Bottle holder for up to 1.5 liters/50 oz.
Front pocket suitable for towels or gloves.
Side pocket for wallet, keys, etc.
Two side pockets, one on each side for rule book, nuts, candy, or other things needed for long rounds and tournaments.
Large side pocket inside of putter pocket, suitable for backup discs.
Large top pocket for extra water, clothing, rain gear.
Putter pocket on the side with room for two putters.
Mini disc slot outside the putter pocket.
The lid that closes the bag for travel also has room for two discs.
The main disc compartment has an adjustable divider for the discs.
Umbrella holder.
The bag is designed for a rain cover that protects all the pockets in case of rain. It has an opening for easy access of discs and attaches with an elastic band. Can be bought separately.
The large top compartment has a special slot for cell phones.
The bag has two large plastic ridges along the bottom, reducing the wear and tear of the fabric.
The inside bottom of the bag has a sheet of plastic protecting it from moisture coming in from beneath.
Premium SBS Zippers.

Weight: 6 pounds 7 ounces

Dimensions (unexpanded water bottle pocket): 20" High x 12" Wide x 10" Deep

Fabric: 600D x 600D Poly ripstop with Eco Friendly PVC backing

NOTE: Discs and water bottle in picture above are not included.

Click here to view Product Warranty information.

To file a warranty, please email warranty@dynamicdiscs.com with pictures of the defect and they will get back to you as soon as they can.